Charge any USB Device
Transform your standard USB C or micro USB Android cables into UNIVERSAL magnetic Chargers!
How it Works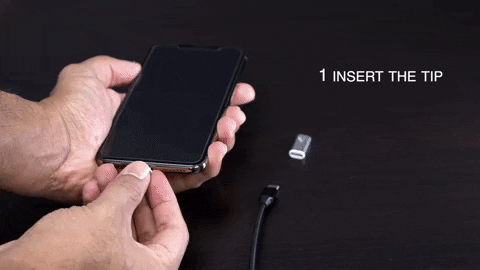 Compare Adapter Models
One Adapter Multiple Devices
Make your life easier by making your existing standard cables more functional with the VOLTA Adapter.​ Never buy multiple cords AGAIN!
Tiny, yet Mighty
The VOLTA Magnetic Adapter 2.0 is a singular charging system that will work with just about any device you own - and look great doing it.
Say goodbye to hoarding multiple chargers in your bag, at home, or at the office. All you'll be needing is the small, yet powerful Volta magnetic adapter, to transform any Android Charger cable to power your USB devices, anywhere, and at any time. It works with three magnetic tips that can turn the open end into a USB-C, Lightning or Micro-USB cable. Just install the magnetic connectors into your phone, tablet, or laptop ports, and you'll be able to instantly switch the same regular cable between your different devices whenever you need to. The connectors are strong enough to stay in your devices without falling out but can be removed with no extra tools or wear and tear.
Tips + Device Compatibility Chart
Samsung S6/S7/S7 Edge
Kindle
HTC Devices
Motorola
Nexus
Nokia
LG
Other Micro USB Devices

iPhone X/iPhone 8
iPhone 7/7 Plus
iPhone SE
iPhone 6S/6S Plus
iPhone 5/5S/5C
iPad Mini
iPod
Other Lightning Devices

Huawei Mate Pro
One Plus 5/5T/6/6T
Nexus 6P
Nokia N1 Tablet
LG V30/G5/G6/HTC U11
Samsung S8/S8+/S9/S9+
Huawei Mate 9/9 Pro/10/10 Pro/P10/P10 Plus/Pro 20
Other USB C Devices